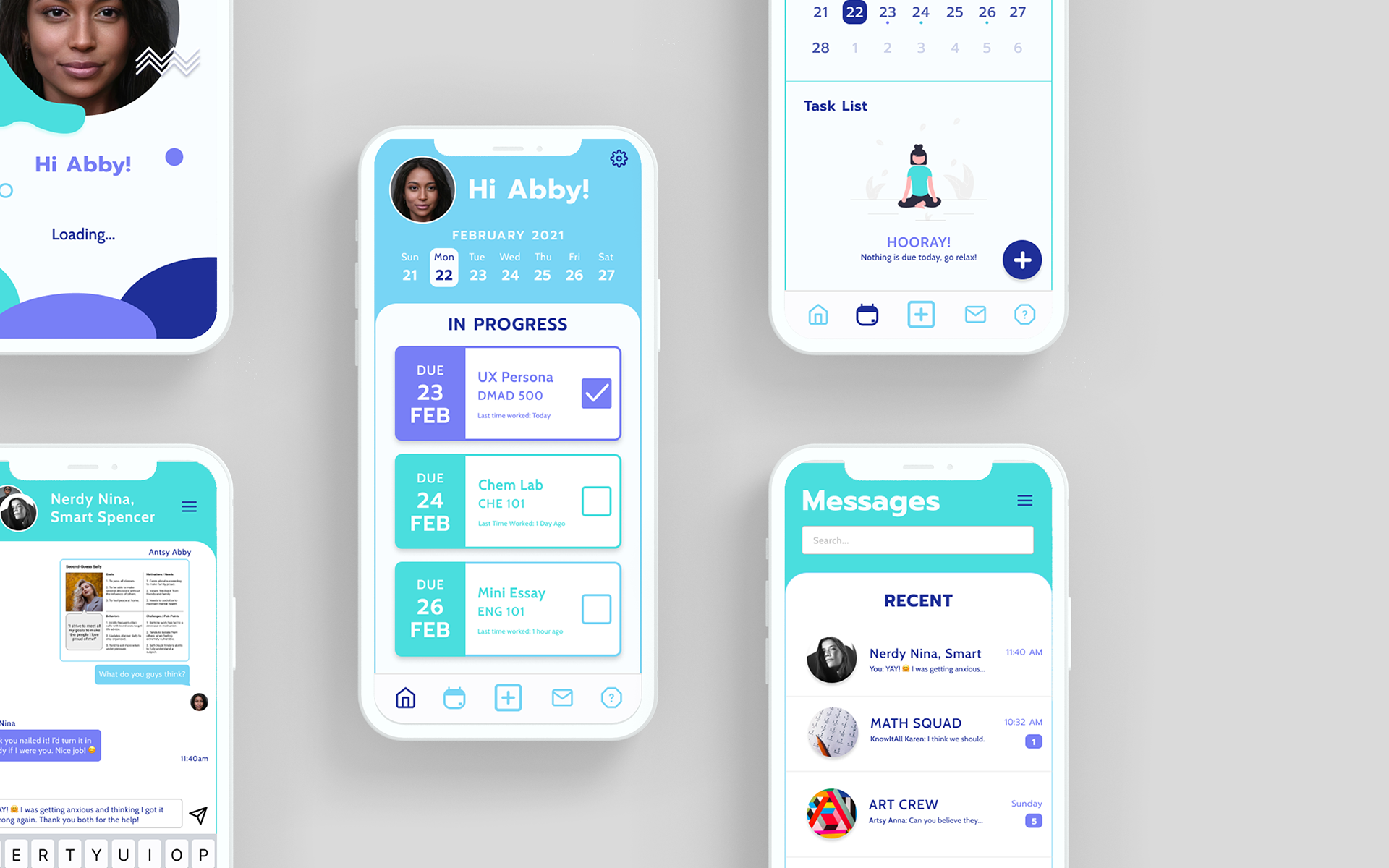 Project Overview
Epipha-me!
is a productivity app that offers quick and viable solutions for struggling students. The app eliminates the frustration of being stuck on an assignment by streamlining help with many parties. 
Project Duration
February 2021 - July 2021
My Role
Solo UX/UI Designer
The Context
I decided to focus on stress experienced by students during the COVID-19 pandemic. The abrupt switch to remote learning increased stress and the development of habits. I have a younger sister who started college in 2020. She found herself to be very unmotivated due to remote learning. She developed a habit of picking her lip because of this sudden transition. This led me to want to learn more about how students adapted to stress because of remote learning.
The Problem
Many students lost and faced unprecedented challenges during the COVID-19 pandemic. Students resort to developing anxious habits due to being overwhelmed by piling assignments and short deadlines. 
My challenge was to explore the good of technology in this new era of learning:
1. How often do students find themselves using technology to find the solution to a problem when under pressure?
2. Do the opinions of others have an impact on your actions when making a decision?
Project Goals
• To understand and learn about the specific habits students exhibit 
• To learn what outcomes trigger these responses
• To discover what students feel about nervous ticks
• To learn about what students do to overcome these habits
I conducted video interviews via Zoom with four students from my UX Design class. I wanted to identify and understand their pain points when experiencing stress. I asked each candidate questions related to school-related stress and other factors. 
Comments from Candidates
"At a very young age, my parents would be like you get A's or you don't get anything at all. Anything below an A or B+ would be a failure for my standards."
"When I make a mistake, it's hard for me to accept the fact that I made it. I get angry with myself and say why didn't I get it the first time?"
Insights
After each interview, I jotted down detailed notes from each candidate. Using Figma, I used the affinity mapping method to organize my observations into three major categories: Life Pre-Pandemic vs. Now, Stress Factors, and Feelings because of Stress & How to Cope. My findings indicated that students experienced immense pressure from their families to perform well academically. In response, students would often turn to social media platforms to share their frustration and ask for advice in hopes of alleviating stress. I also discovered my candidates were still dependent on their parents.
Persona
From my research, I created "Antsy Abby" a persona that carried characteristics from all four candidates. These characteristics came from the data I gathered from my affinity map.
Antsy Abby is a college student who makes an effort to impress her loved ones. Although Abby is close to her friends and family when she is struggling, she tends to isolate herself.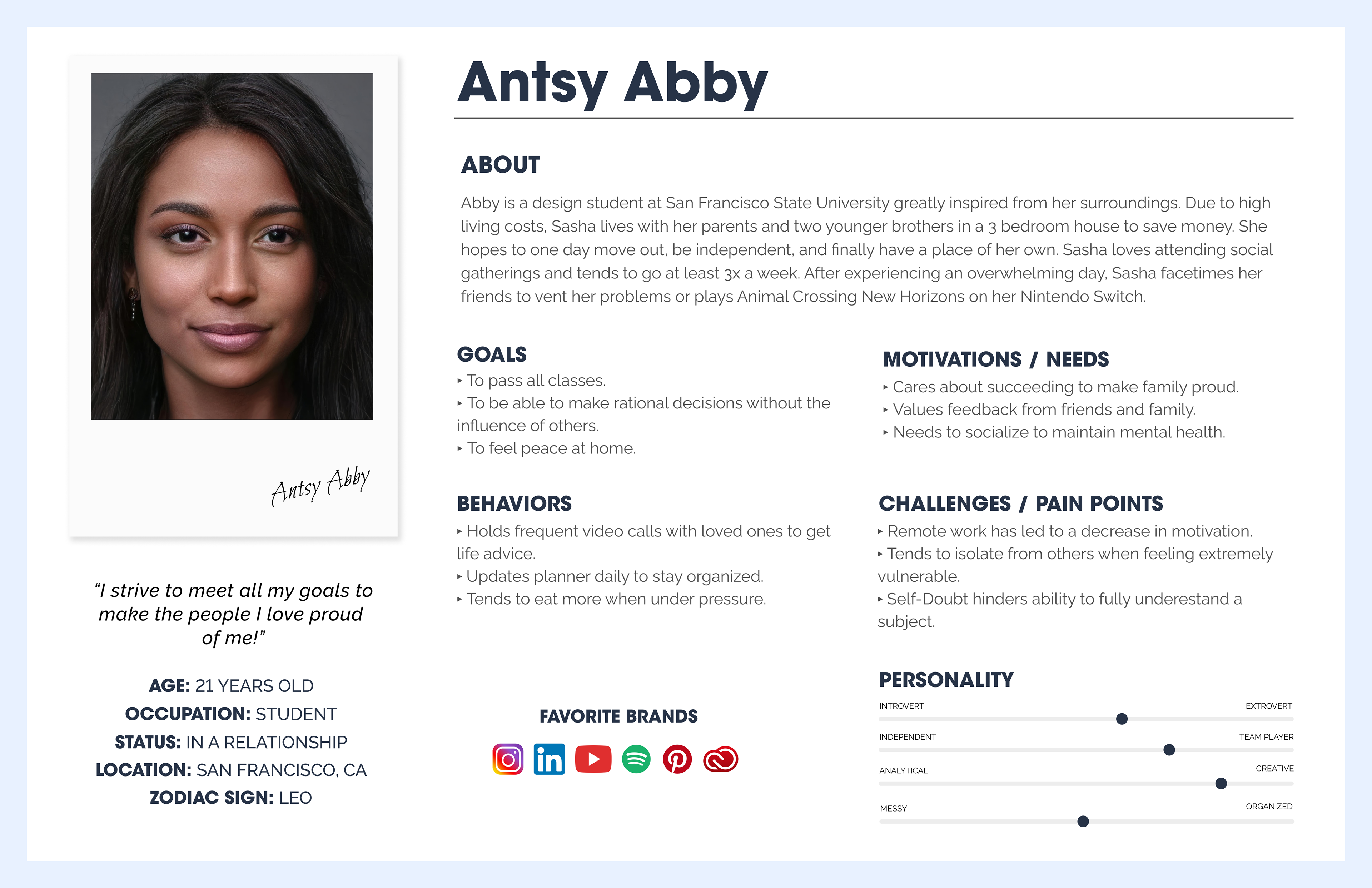 Ideation

I wanted to pinpoint the bigger questions that would better inform students' decisions when feeling stressed. Antsy Abby allowed me to contribute more divergent thinking.
• How might we redirect Abby's isolative tendencies when under pressure?
• How might we develop an effective routine to improve Abby's performance at school?
• How might we inspire Abby to be optimistic when faced with the possibility of failure?
Hypothesis

"I believe that creating an app (which allows people to create groups, stay organized/ motivated) will result in the development of efficient study habits and self-confidence of my persona."
Storyboard

Utilizing the storyboard technique helped me visualize what scenarios my persona would experience and what features would be necessary. My story would begin with Abby acting frustrated and stuck with her homework. She opens the Epipha-me! app to get in touch with a group of students who have already completed the exact assignment and get help.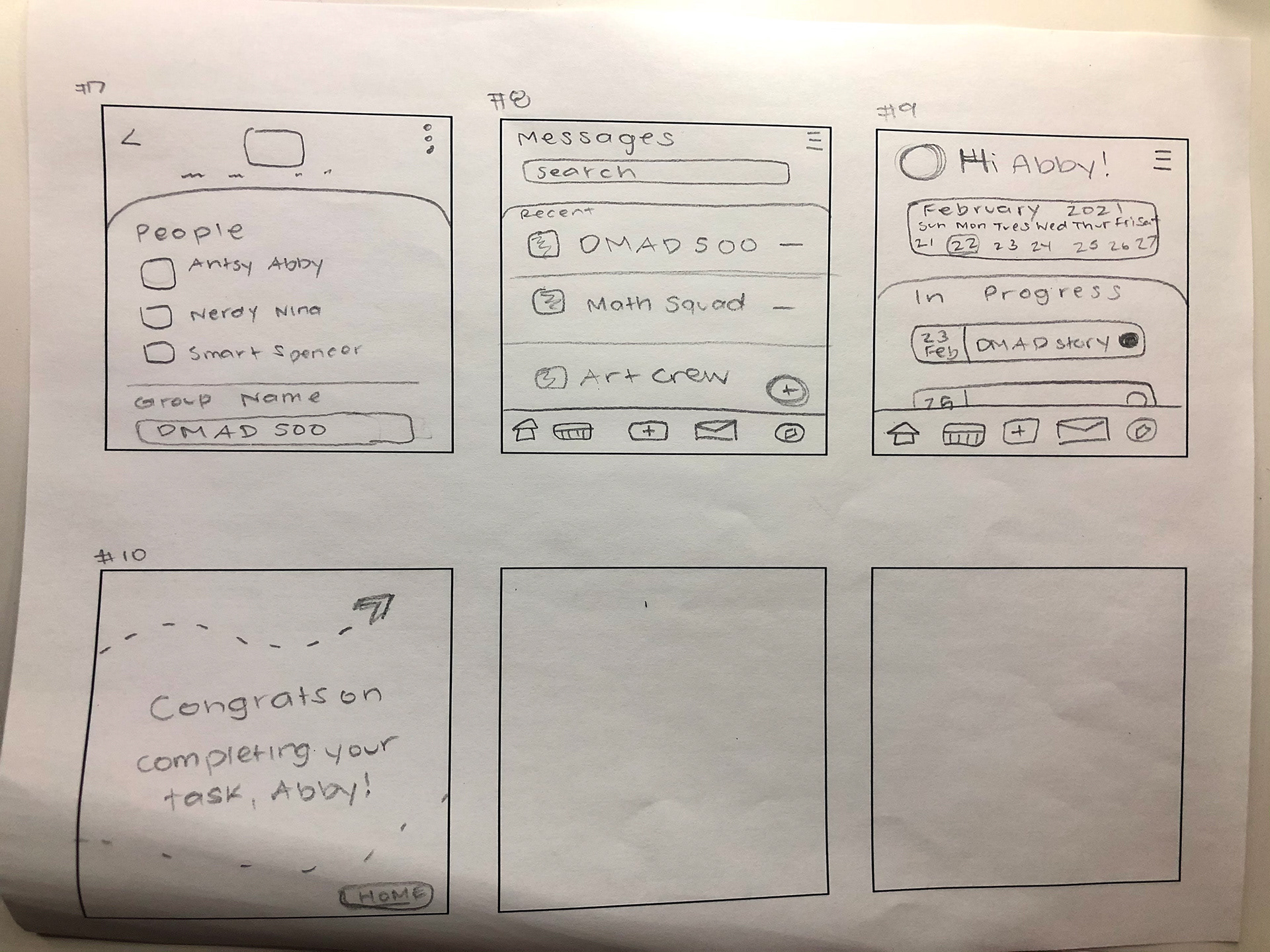 Low Fidelity  + High Fidelity Wireframes
My key insights from user research helped me create concept wireframes to visualize the app functionality through multiple-element variations. I sketched out the wireframes on paper and used Figma to execute my ideas.
I intended to create a calm yet inviting experience that was visually engaging to navigate through. As such, I incorporated a cool tone theme along with san-serif fonts for increased legibility on Figma. 
The key feature prompts the user to face their problem immediately when they open the app. This feature encourages the user to explore different methods to help resolve their issue. Note: This prompt only shows up IF the user has not checked off an assignment before the deadline. 

Prototyping reveals hidden obstacles before it's too late. I wanted to resolve potential problems to avoid delivering an unpleasant experience. I developed a high-fidelity prototype using Figma to see what features worked best and optimized unclear designs. I conducted three usability testing sessions with my prototype. I assigned each student three tasks to complete and asked them to walk me through how they would use the platform.
Tasks
1.  Start your journey for help by finding the most efficient method to tackle the assignment.
2. Talk with your peers to help find a solution to the problem
3. Find out how to successfully check off the assignment. 
The results were synthesized using a feedback capture grid. This method gathered pain points and design opportunities to make the user journey clear. 
I needed to educate the users on the goal and purpose of the platform. This was accomplished by adding detailed step-by-step instructions to help guide users through their experience.
Inconsistent design styles led users to think it was not part of the app. This issue would be fixed by refining all designs to make them cohesive and clear.

After synthesizing the research, I incorporated more app choices for the user. I went with this decision in hopes of establishing a motivating and social behavior. This encourages the user to avoid detrimental habits and use communication to help them instead.
Results

From this design project, I wanted to help struggling students gain a sense of motivation and engagement with the Epipha-me! At first, my main goal targeted struggling students that were dependent on their families. However, after many testing sessions, I realized the solution involved choices and guidance. Having a better use of options and providing continuity throughout the user flow helped users make assured decisions. These decisions would lead to completing assignments and overcoming stress.
Surprising Insights
I had many surprising discoveries throughout my project. One is all my interviewees shared was that they were dependent on their families. Whether they hold a close relationship with their family, more than half expressed their stress rooted in home. It made me wonder if independent college students shared the same feeling. When conducting user tests for the prototype, I was shocked to learn how much the wording of a task could impede one's path to achieving a task. It made me realize that I should always have a second set of eyes proofread my material before asking for feedback. 
Challenges
We often face challenges with every project. In this project, I encountered the most struggle while analyzing my research. Affinity mapping helped me organize the abundance of data collected into subcategories. By doing so, I was able to determine what proposed solutions would align with my project

.
If Given More Time
I would conduct user research and usability tests with at least 5 new users not familiar with UX/UI. I would conduct comparative studies based on different user scenarios of existing + new solutions.